This is part of our Sacred Tour to India package…
The annual International Yoga Festival is organized by Parmarth Niketan Ashram in Rishikesh, India.
Jeffrey is currently scheduled to speak:
Feb 5  3:30 pm | Feb 6  11 am  | Feb 7 1:45 pm
Please check with the main schedule as these may shift.
March 5: 3:30 – 5pm (90 min)
Svadhyaya: The Psychology of YOGA
Jeffrey Armstrong will take you on an initiatory journey into the depths of Yogic thought and its psychological influence on the western world, reminding us that in India, yogi's have been studying the mind and subtle energies for 10,000 years.  This series is a must for anyone studying Psychology and who wants a broader view of "self" than what is currently being taught in traditional academia.
March 6:  11am – 11:45 (45 min)
Ishvara Pranidan: The Lost Secrets of  the Devas
Learn the secret relationship between Ishvara Pranidan, one of the three actions of Ashtanga Yoga and the practice of Karma Yoga.
March 7: 13:45 – 15:00 (75 min)
Tapasya: The Universal Principle Behind all Success in Life
Tapasya is the generation of heat thru correct practice which empowers personal development and self- transformation. How do we stay focused in today's busy life.
Day 5 Wed, Mar 5 – Day 7 Fri, Mar 7: Rishikesh; International Yoga Festival (B, L, D)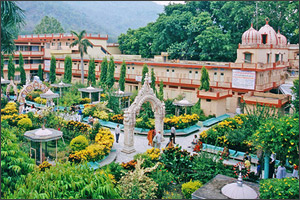 Over the next few days, you will get to experience the International Yoga Festival at Parmath Niketan. Parmarth Niketan is a true, spiritual haven, lying on the holy banks of Mother Ganga, in the lap of the lush Himalayas. It is also the largest ashram in Rishikesh. This is one of the ashrams that Jeffrey highlighted in in the documentary Planet Yoga. Parmarth Niketan provides its thousands of pilgrims, who come from all corners of the Earth, with a clean, pure, and sacred atmosphere, as well as abundant, beautiful gardens. It is no surprise that pilgrims are drawn here from all over the world. The awe-inspiring beauty of the ashram, the clear, flowing Ganga, the majestic mountains, and the lush green forests will embrace and rejuvenate your entire being. In the evenings we will participate in the beautiful Ganga Aarti, in which lamps are lit and sacred offerings are made to the Ganga.
Yoga is an ancient science which leads to a healthy body, peace of mind, a joyful heart, and liberation of the soul. The festival explores the eight limbs of yoga and how they apply to our lives, whether we consider ourselves yoga students or not. In other words, everyone can benefit from yoga practice, and this journey is open to all, beginners to advanced, to those with little or no yoga experience at all. During the festival, you will have the opportunity to participate in Yoga classes with world-class Yoga teachers practicing multiple styles of Yoga, including Kundalini Yoga, Power Vinyasa Yoga, Iyengar Yoga and Kriya Yoga.
You will also be blessed with the presence, satsang, and divine words of revered saints and spiritual masters from within India, including H.H. Sri Shankaracharya Swami Divyanand Teerthji, H.H. Swami Chidanand Saraswatiji and H.H. Swami Veda Bharatij. Jeffrey Armstrong (Kavindra Rishi) will also be presenting at this festival. For those who don't want to take a hatha yoga class, Sandi will be available to take you shopping for a few hours or you can sip chai and relax by the Ganga.  A variety of experiences will be available to you during the festival as well. Perhaps you will get up early for the Sadhana practice, or maybe you will enjoy an inspiring lecture from one of the revered saints or yogacharyas on a variety of uplifting and inspiring subjects.
Each day you will enjoy breakfast and a traditional Indian lunch. Dinner is also included at the festival and is followed by a special evening program of satsang, cultural song and dance events, campfires, and more