This is part of our Sacred Tour to India package…
The annual International Yoga Festival is organized by Parmarth Niketan Ashram in Rishikesh, India.
Jeffrey is currently scheduled to speak:
Feb 5  3:30 pm | Feb 6  11 am  | Feb 7 1:45 pm
Please check with the main schedule as these may shift.
March 5: 3:30 – 5pm (90 min)
Svadhyaya: The Psychology of YOGA
Jeffrey Armstrong will take you on an initiatory journey into the depths of Yogic thought and its psychological influence on the western world, reminding us that in India, yogi's have been studying the mind and subtle energies for 10,000 years.  This series is a must for anyone studying Psychology and who wants a broader view of "self" than what is currently being taught in traditional academia.
March 6:  11am – 11:45 (45 min)
Ishvara Pranidan: The Lost Secrets of  the Devas
Learn the secret relationship between Ishvara Pranidan, one of the three actions of Ashtanga Yoga and the practice of Karma Yoga.
March 7: 13:45 – 15:00 (75 min)
Tapasya: The Universal Principle Behind all Success in Life
Tapasya is the generation of heat thru correct practice which empowers personal development and self- transformation. How do we stay focused in today's busy life.
Day 5 Wed, Mar 5 – Day 7 Fri, Mar 7: Rishikesh; International Yoga Festival (B, L, D)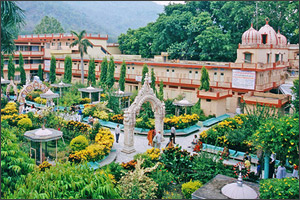 Over the next few days, you will get to experience the International Yoga Festival at Parmath Niketan. Parmarth Niketan is a true, spiritual haven, (more…)